Signage Australia Wide & Asia Pacific
Delivering Nationwide for over 145 Years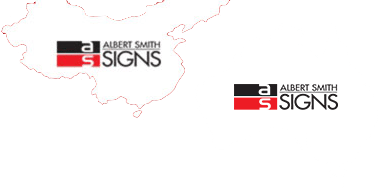 Digital print signage involves printing from a digital image directly onto your chosen media, from traditional branding to banners and large billboards.
Tactile printing involves producing raised surfaces to convey depth and texture. Typically this is used to create Braille and diagrams so that a visually impaired person can feel the graphic. Raised text, numbers and graphics create a fantastic depth or 'touch and feel' look for a sign. This technology can be used to produce raised graphics of a variety of depths, onto almost any substrate possible, the possibilities are endless.
Digital Print Explained in 1 Minute
In our ASPrint department, we choose to use 3M graphic products, components and procedures for all our digital print projects
Our state-of-the-art ASPrint department and printing technology ensures our digital and tactile prints are of the highest quality and consistency.
Read more on the ASPrint website.
Albert Smith Signs are leaders in design and manufacturing, with a strong commitment to quality and innovation
Our digital prints and tactile printing can be personalised and adapted to meet your specific branding and marketing needs, and are a cost-effective signage option. We offer fast turnaround and a 5 year warranty!
Digital print signage allows businesses to clearly communicate who they are to customers entering the business. Tactile print signage allows you to communicate 'touch and feel' to your customers.
It allows you to present your business professionally while acting as an effective point-of-sale tool to promote what you do.
At Albert Smith Signs, we provide all our signage services to the highest standards to meet and exceed customer expectations.
For an obligation free quote, or to speak to our professional team, contact us today via phone or email.
Phone
+61 1300 385 903
Australia,
Brisbane (Head Office)
59 Taylor Street, Bulimba QLD 4171

Postal Address
PO Box 226, Bulimba QLD 4171
Sydney
2/4 Prince William Dr, Seven Hills NSW 2147
Melbourne
Level 9, 440 Collins St, Melbourne VIC 3000