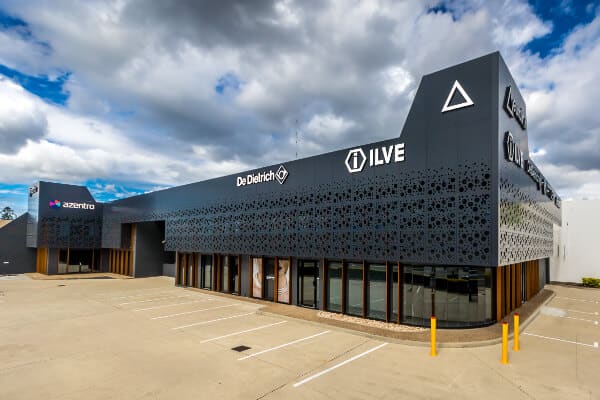 Azentro Evolved Technology Integration and Albert Smith Signs certainly transformed Azentro head office at Cavendish Rd, Coorparoo.

Azentro's choice of Permasign for their building façade delivered exceptional on trend building signage.
Permasign letters are manufactured using computer precision fabrication to provide perfect re production. This is cutting edge technology in the manufacture of individually illuminated building signs. The 3D letter returns are aluminium to ensure a robust and long lasting product. To deliver long term resistance to weathering elements and to blend with the building exterior the letters were sprayed with a two pack satin black. The 3D letters were attached to ACM board, sprayed black to blend into the façade and attached to the wall. The letter faces were white high impact poly carbonate to prevent face breakage.
Azentro's LED signs were illuminated with 1.2 watt /12 volt ASTech LED's utilising highly efficient surface mounted diodes (SMD's) to deliver an even lighting output and  draw less power to deliver cost effectiveness  long term. The ASTech LED's in the illuminated signs carry a 5 year warranty.
Need to transform your building signage?
Consider our 3D Permasign,  it can be crafted from acrylic, metal or moulded from other materials. We can also incorporate energy efficient LED lighting to create a 3D work of art for your business signage.
Get in touch with us, we would love to hear from you!