How many times have you been asked that question whilst standing at your local sports ground watching your team do their stuff?LED screens are a great way to deliver any message. Electronic signs can be used to display sporting scores, static images, play videos and deliver personalised messages about your product, services or events.

At Albert Smith Technologies (ASTech) we design custom LED signage solutions for each and every customer and each and every need. ASTech was recently commissioned to supply and install a sporting scoreboard at the University of Queensland (UQ), St Lucia that could also be used to deliver a variety of messages between their sporting events.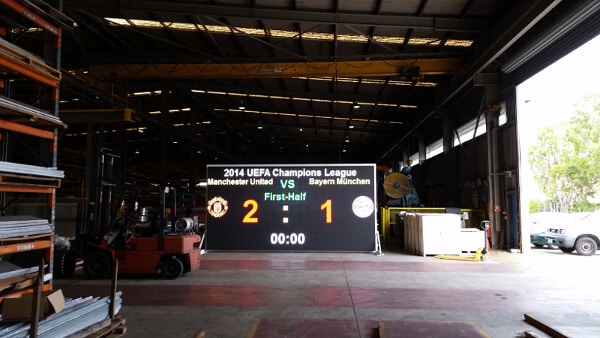 Advantages of LED screens:

Guaranteed high brightness and visibility
Robust in an outdoor environment
Significant energy savings
Scope of screen installed :
Screen area 5760mmW x 2880mmH = 16.59 sqm
Brightness 6000 candela per sqm
Viewing angle 140degree horizontal, 70 degree vertical delivers long distance viewing
IP rating of 65 ensures waterproof in an outdoor environment
ASTech LED surface mounted module (SMD) 3 in 1 colours in module, red blue, green (RGB)
Pixel pitch of 16mm that delivers exceptional clarity whist still reducing energy consumption
Ease of communication to the screen with Wi-Fi
Scope of cabinet surround :
Construction steel
Weight 750kg
Cabinet size 960mmW x 960mmH x230mmD
Cabinet resolution 60×60 dots
Average power consumption 343W per sqm
SOLIDWORKS (design software) was used to provide 3D model data to streamline and guide the process which reduced the margin for error and delivered accuracy in the assembly and installation of the LED scoreboard.
Electronic LED signage can be integrated into many of your business signage products including your building signage, identification pylon and directional signs. The power of LED messaging and LED electronic signs is incredible!
We can custom design an electronic screen solution for you – get in touch with us