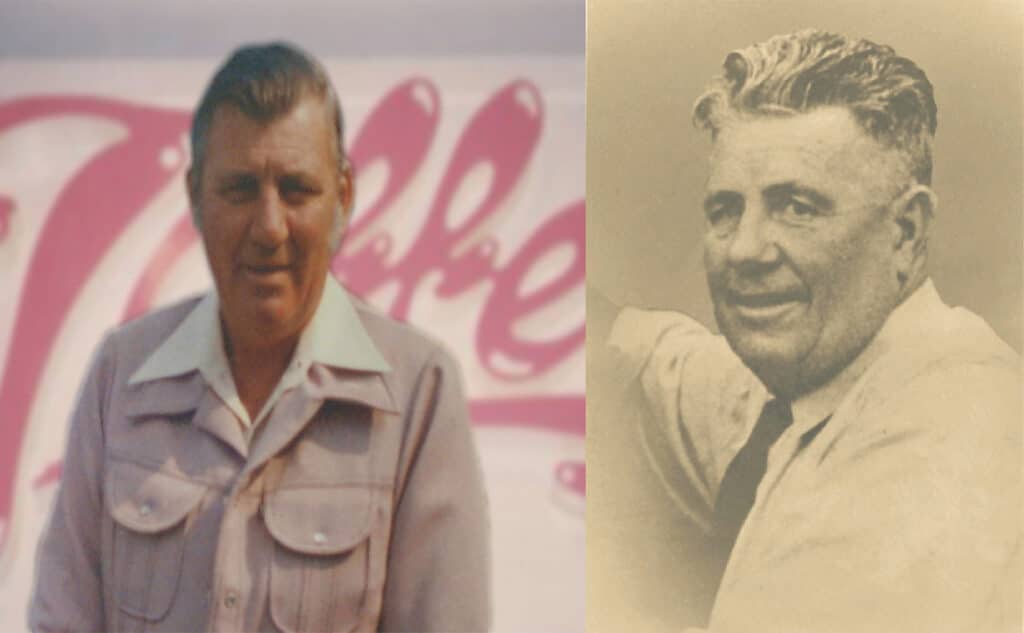 For more than 70 years, Albert Smith Signs has been a trusted industry leader in the design, manufacture, installation and maintenance of identity and corporate signage products nationally and throughout the Asia Pacific.
Our story began way back in 1873 – From our humble beginnings we continue to manufacture quality products with the same pride and integrity as our founders.
Albert Smith's 3rd generation Managing Director was Keith Smith or as he was affectionately called "The Ox" and professionally known as the "Happy Sign Maker". Keith was a skilled tradesman in many and varied roles and was actively involved for over 40 years, setting the course for the future with his commitment and innovative thinking. Keith's word was his bond, his handshake binding and his sense of humour legendary. He always respected his fellow man and instilled respect, credibility and reliability into the name of Albert Smith. His pride in the company knew no bounds!
MEET TODAY'S OWNERS:
Our Directors:
Our Managing Director Rodney Smith became our 4th generation MD in 1982 and has lead our team for nearly 40 years.
As the MD of one of Australia's oldest companies he proudly carries on the tradition of his for-bearers and whilst much has changed over the years we have never been more focused on quality services and products.
Rodney is still fully involved in the day to day management of Albert Smith Signs (ASS) and has maintained ASS as a privately owned family manufacturing company.
Mitchell Smith
Fellow Director Mitchell Smith began sweeping floors on school holidays and worked his way through every facet of the business over the next 48 years, both domestically and internationally.
Mitch is still actively involved and his current leadership role is as mentor to the front line teams imparting his broad range of knowledge, skills and experience to: sales, estimating and Signspec design departments.
Post WWII the technological advances of the war, demanded and delivered new materials for our industry and accelerated our evolution.
The emergence of plastic materials created new possibilities in signage manufacturing and we took advantage of it –we embraced the "plastics age"
In the late 1940's Albert Smith Signs was one of the first Australian company to incorporate plastics into signage design and manufacture.
The 50's saw our utilization of acrylic (Perspex) for business signs and our then traditional market of house names, both manufactured at Albert Smith & Son by hand from sheet acrylic. The rapid emergence of plastics, mainly acrylics, in custom sign making called for new design, fabrication and illumination skills.
Our Advertising tagline at that time was "Plastic Signs of all descriptions also Under Awning Flash Signs". You can still see some of these basic under awning business signs in regional areas of Queensland.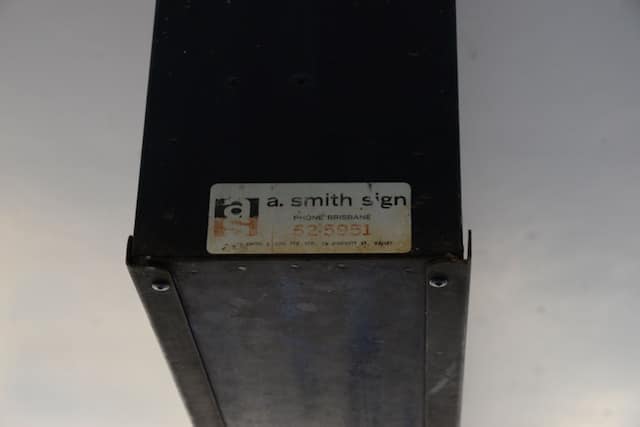 In 1959 we manufactured our first illuminated corporate sign for the Commonwealth Bank and our signage design, manufacturing and illumination methods continued to evolve over the next twenty years.
In 1974 we began to explore vacuum forming of plastic for signage – We had been shown pictures of what was being produced in the US with a new material UVEX, which fired our imagination!
As you did in those days, we built our own primitive oven and press, added a vacuum pump and started to trial what could be achieved. When we were a little more confident with the process we organised a customer demo evening at our then premises in Doggett St Fortitude Valley and invited Coles Qld and a number of Brisbane architects. Food, drinks and a demo of our new process with product give-aways delivered a successful night. Coles Qld became our first vacuum form customer and also gave us our valued introduction to Coles National.
We believed this was the future of signage and with research and recommendation (remember no internet in those days) in 1976 Keith and Rod flew to Charlotte in North Carolina to Jack Schuman's factory who was reputed to be manufacturing the best in vacuum formers.
The machine was around $100,000 – a lot of money for Albert Smith in those days and somehow Keith stacked up the money so the machine was ordered, sight unseen!
It was Rod's first international flight and I know there are many stories and adventures from that trip.
Our machine arrived in Brisbane in 1977, was assembled and with training and a little trial and error we were off – as pioneers and leaders in Australia of the new technology (in particular mould development) of  plastic vacuum forming of signage and branding.
Our first corporate customers were Coles, Woolworths and Shell. We even moulded Pizza Hut and McDonalds for a major competitor.
Our new technology allowed moulded branding and signage as one off's for our smaller customers – The chicken shop at Glass House Mountains!
And who can forget one of Queensland's major car dealerships, John Zupp at Booval with the big moulded elephant out the front!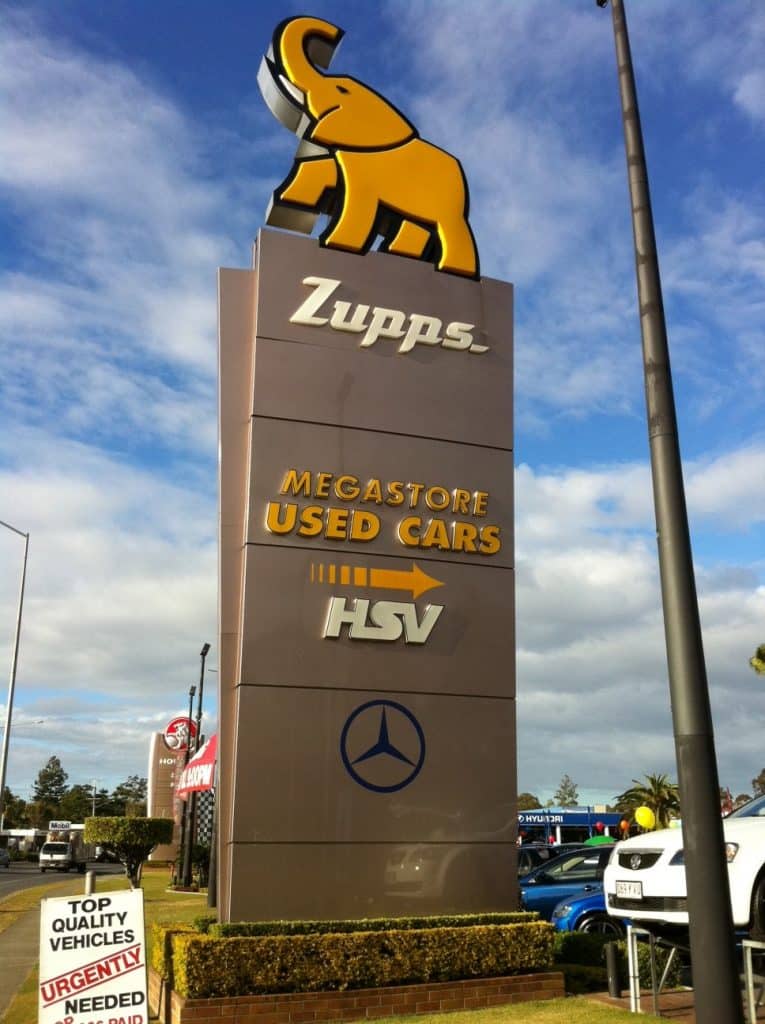 Throughout the 70's and 80's, as an Australian sign maker we lead the way in the development of modern branding and signage products.
In 1986 we introduced computer assisted design (CAD) to our manufacturing methods, and as best we know just the second in the world to utilize CAD in signage, to reproduce designs with greater accuracy, time efficiency and increased volume.
In the 90's we leveraged our capabilities and knowledge to step out onto the world stage:
In 1993 we established our first offshore joint venture in New Zealand to meet the emerging branding needs of the Global Marketplace.
In 1994 we expanded into China (ASC) to meet the needs of the Quick Service Restaurant and Automobile sectors. At that time Albert Smith was the only company in the Asia Pacific region who was able to offer all-encompassing branding and signage – from standardization of design, quality product manufacture and project management through to installation.
In 1998 Albert Smith Philippines (ASP) was established to meet the needs of the developing Filipino market and is located in Manila. ASP provides quality products and services, including in house design, structural engineering and manufacturing to many of the countries high profile identities – including the Petroleum industry and restaurant chains.


The Global Signware Alliance (GSA) was established in 2001 on our edict of "Consistent global services and product supply, whilst meeting local requirements"
GSA is able to meet the needs of a global roll out, whether that be for services such as surveys, product design, project management, manufacture or installation. We form a global one-stop-shop with the partnership between Blair Image Elements (USA) Prolicht (Europe) and Albert Smith Signs (Asia Pacific.) Our ethos is "global reach, local knowledge, cohesive worldwide delivery"
Technology and electronic developments in other industries have led to changes and advancement in the signage industry of today – improved acrylics, material developments including vinyls, advancement in machinery and computer technology and the major leap forward in LED modules for illumination. Today the core of our business is signage manufacture and installation BUT Albert Smith Signs offers much more than just manufacturing and installation of your branding!
As an Australian manufacturer our  in house services encompass the capabilities to assist you at every stage of your project; design, 3d modelling, on site audits, council applications, engineering, project management, manufacture, installation, ongoing service and preventative maintenance.
ALBERT SMITH SIGNS OUR 4TH GENERATION FAMILY COMPANY – STILL HERE FOR YOU!       
WE THANK OUR TEAM MEMBERS, OUR CUSTOMERS AND OUR SUPPLIERS FOR SHARING THE VISION AND THE GOALS THAT HAVE BUILT ALBERT SMITH SIGNS