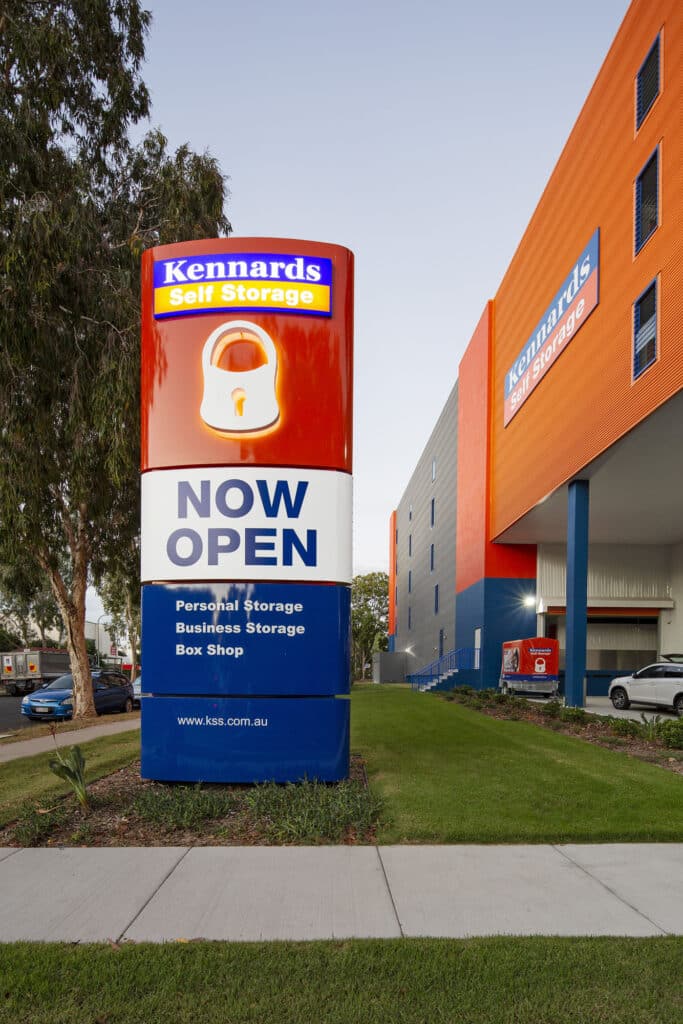 Kennards Self Storage remains a privately owned and family run company that built their first storage spaces in 1973.
As another privately owned and family run company Albert Smith Signs are proud to be chosen to manufacture and install the branding elements that enhance and customise Kennards corporate signage.
Kennards is a long term customer of over 16 years, in 2004 we successfully tendered for Kennards Hire rebranding project of their 32 NSW sites. Today we manufacture 3 standard pylon sign sizes for Kennards Self Storage – 5M, 6M and 8.4M. The pylon signs have an internal steel structure, clad with aluminium panels and the bottom panels have front applied graphics. The pylon top head holds the logo and brand panel –VACUUM MOULDED to enable manufacturing flexibility of the unique design, depth and strength of the 3D padlock from high impact acrylic, sprayed gloss white.
If you're looking for a powerful statement about your business, pylons should be at the top of your consideration list – At Albert Smith Signs we manufacture pylon signs with innovation in our design, manufacture, and installation methods – we are industry pioneers in Vacuum Moulding .
VACCUM MOULDED PYLON SIGNS ARE OUR SPECIALITY! 
KENNARDS SELF STORAGE AND ALBERT SMITH SIGNS – BOTH PROUD AUSTRALIAN FAMILY OWNED COMPANIES!